Main Content Starts Here, tab to start navigating
MAY 19, 2022
MONDAY - SUNDAY 5-10:30PM
FIRST
LETTUCES WITH RADISHES AND CABOT CHEDDAR
$19
NETTLE SFORMATO WITH SNAP PEAS AND FINOCCHIONA
$19
ASPARAGUS WITH RICOTTA AND PISTACHIOS
$21
SECOND
MACCHERONCINI WITH CHICKPEAS AND SPINACH
$24
FUSILLI WITH LAMB RAGU AND ENGLISH PEAS
$27
LINGUINE WITH SMOKED TILEFISH, CAPERS AND SCALLION
$26
THIRD
BLACK SEA BASS WITH ARTICHOKES AND SALSA VERDE
$36
PORK COPPA WITH WHITE BEANS AND RAMPS
$38
DESSERT
PANNA COTTA WITH STRAWBERRIES
$12
MASCARPONE CAKE WITH RHUBARB
$15
MINT STRACIATELLA ICE CREAM
$9
MAY 14, 2022
SATURDAY & SUNDAY 11AM-3PM
LETTUCES WITH SABA, RED ONION AND PARMIGIANO
$17
FARRO WITH ASPARAGUS, PISTACHIO AND AN EGG
$19
WHIPPED RICOTTA WITH BROCCOLINI AND CALABRIAN CHILI
$18
TAGLIATELLE WITH ENGLISH PEAS AND PROSCIUTTO
$25
SPAGHETTI WITH LENTILS
$24
CRESPELLE WITH CHOCOLATE AND HAZELNUTS
$18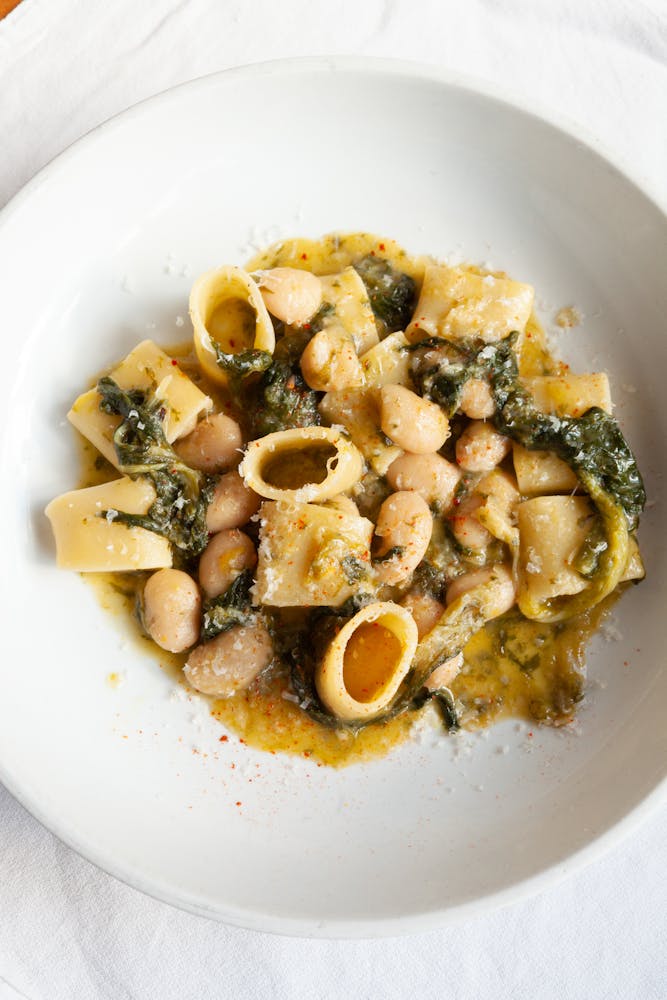 SPARKLING
GREGOLETTO
Prosecco | Veneto 2019
ANGIOLINO MAULE 'GARG N GO'
Garganega | Veneto 2020
CASA BELFI
Glera | Veneto NV
OMBRETTA AGRICOLA 'ROSATO'
Verduzzo Trevigiano, Cabernet Sauvignon | Veneto NV
IL FARNETO
Spergola, Sauvignon Blanc | Emilia-Romagna 2020
GIANLUCA GERGIANTI
Salamino di Santa Croce | Emilia-Romagna 2020
CA DE NOCI 'LE ROSE BIANCO'
Malvasia | Emilia-Romagna 2020
CA DE NOCI 'TRE DAME'
Termanira, Sgavetta | Emilia-Romagna 2020
CROCIZIA 'MARC' AURELIO'
Lambrusco | Emilia-Romagna 2020
DO.T.E. 'KEEP MY SPIRIT ALIVE'
Syrah | Toscano 2020
MEIGAMMA
Nuragus | Sardegna 2019
L'ARCHETIPA 'SALENTO BRUT ROSATO'
Susumaniello | Puglia 2018
COS 'EXTRA BRUT'
Frappato | Sicilia 2018
LARMANDIER-BERNIER 'LATITUDE BLANC DE BLANCS EXTRA BRUT 1ER CRU'
Champagne NV
WHITE
GROSJEAN
Petite Arvine | Vallee d'Aoste 2020
IN DER EBEN
Gewurztraminer | Alto Adige 2019
CONTRA SOARDA
Vespaiolo | Veneto 2020
VIGNETI VALLORANI 'LEFRIC'
Malvasia, Trebbiano | Veneto 2018
ABBIA NOVA
Passerina | Lazio 2020
JOY KULL
Procanico, Trebbiano, Malvasia | Lazio NV
COENOBIUM
Trebbiano, Malvasia, Verdicchio | Lazio 2020
MONTENIDOLI 'IL TEMPLARE'
Vernaccia, Trebbiano, Malvasia | Toscano 2016
YVES LECCIA 'L'ALTRU BIANCU'
Biancu Gentile | Corisca 2016
CANTINA GIARDINO 'TU TU'
Fiano | Campania 2019
CANTINA DEL BARONE '928'
Fiano | Campania 2018
GAUDIOSO
Zibibbo | Sicilia 2019
PASSOFONDUTO 'SOLFARE'
Grillo, Catarratto | Sicilia 2020
ARIANNA OCCHIPINTI 'SM'
Grillo di Contrada | Sicilia 2020
ORANGE
GRAWU 'GT.O'
Gewurztraminer | Trentino-Alto Adige 2019
FORADORI 'FUORIPISTA'
Pinot Grigio | Trentino-Alto Adige 2020
DARIO PRINCIC 'Trebez'
Sauvignon Blanc, Chardonnay, Pinot Grigio | Fruili 2014
COTAR
Vitovska | Kras, Slovenia 2019
SILVIO MESSANA 'GARNACCIA'
Vernaccia | Toscano 2019
FRANK CORNELISSEN 'MUNJEBEL'
Grecanico Dorato, Carricante | Sicilia 2019
TUNIA 'CHAIROFIORE'
Trebbiano, Vermentino | Toscano 2015
ANDREA OCCHIPINTI 'ALTER ALEA'
Aleatico | Lazio 2020
SALVATORE MARINO 'TURI'
Catarrato | Sicilia 2020
BARRACO
Grillo | Sicilia 2019
VITEADOVEST 'RINA'
Grillo, Catarrato | Sicilia 2018
RED
FORADORI 'MOREI'
Teroldego | Trentino-Alto Adige 2020
FORADORI 'GRANATO'
Teroldego | Trentino-Alto Adige 2018
IN DER EBEN 'SAUKT ANNA'
Schiava | Alto Adige 2018
NUSSERHOF
Lagrein | Trentino-Alto Adige 2016
GRAWU (CHILLED)
Regent | Trentino-Alto Adige 2020
DARIO PRINCIC
Merlot | Fruili NV
ANGIOLINO MAULE 'ROSSO MASIERI'
Merlot, Cabernet Sauvignon | Veneto 2020
ORSI SAN VITO
Cabernet Sauvignon, Barbera, Sangiovese | Emilia-Romagna NV
CASTELLO DI VERDUNO 'BASADONE'
Pelaverga | Piemonte 2020
IULI 'BARABBA'
Barbera | Piemonte 2019
DANILA PISANO
Rossese di Dolceacqua | Liguria 2020
TESTALONGA
Rossese di Dolceacqua | Liguria 2020
PACINA 'ROSATO'
Sangiovese | Toscano 2019
AMPELEIA 'KEPOS'
Carignano, Alicante | Toscano 2019
CASTELL'IN VILLA
Chianti Classico | Toscano 2018
FONTERENZA
Sangiovese | Toscano 2018
PODERE LE BONCIE 'LE TRAME'
Sangiovese | Toscano 2018
MANI DI LUNA 'CHECCARELLO'
Sangiovese, Barbera | Umbria 2018
DAMIANO CIOLLI 'SILENE'
Cesanese | Lazio 2019
AGNANUM 'SABBIA VULCANICA'
Piedirosso | Campania 2020
CANTINA GIARDINO (1.5L)
Aglianico | Campania 2020
'A VITA
Gaglioppo, Magliocco | Calabria 2018
CAMARDA
Nerello Mascalese | Sicilia 2019
FRANK CORNELISSEN 'SUSCARU'
Nerello Mascalese, Nerello Capuccio | Sicilia 2020
LAMORESCA 'NEROCAPITANO'
Frappato | Sicilia 2020
COS 'NERO DI LUPO'
Nero d'Avola | Sicilia 2020
Through a longstanding commitment to sustainability, Roman's has forged lasting partnerships with local farmers. We strive to serve reverent Italian-influenced food highlighting these connections and ingredients. Above all, we are committed to making our industry a more equitable and sustainable home for all who work in it.
Chef: Jacob Handy
Sous Chef: Jose Genao
General Manager: Brittany Tinelli
Beverage Manager: Milan Prince
HOURS
WEEKEND LUNCH: Saturday & Sunday 11-3pm
DINNER: Monday - Sunday 5-10:30pm
Work with Us
We would love to have you join our team! Fill out the form below and we will be in touch.